A few months ago, when Gaza was in the siege and Israel cut fuel supply for Gaza's power station, I wrote a personal note in
Radio Zamaneh
website in pseudonym.
I wrote about my friends in Gaza and Israel and tragedy over there the Title was: "… and Gaza sinks in darkness".
That was the night which about 1.5 millions of people spend in darkness. I wrote about
Dr. Mona El-Farra
and some of my online friends and all miserable people who suffered from hunger and sanction.
The article has got one of the most articles hits in the website and also the link in
Balatarin
, Persian version of
Digg
, was the top link of the week.
Although, there were some users asking me, why do you supporting Palestinians? They argued Islamic Republic spending a lot of money for them while there are peoples in Iran who need Electricity, roads and health services also.
I didn't answer them, but I don't understand why some young users believe Iran's government send money to Palestinians, we may guess they support
Hezbollah
or all fundamentalists groups in the region including
Hamas
, but what to do with Palestinians people?
They don't spend money to somewhere there is no benefits, so they just use them for propaganda.
In my article, there was some links to my Israelis and Palestinians bloger friends, I also send a message to Mona and ask her if she like to do an interview , but it was reasonable got no answer during the blackout.
I really respect her and got some comments from
Rami Almeghari
a journalist in Gaza for the news (at that time I was news editor of Radio Zamaneh).
But a few days later checked her blog for news about ending blackout, I found a
comment
from a small group in Islamic Republic called themselves private
news agency
which actually running by government institutions.
Someone form the link of my article found her blog and wrote there we are supporting you and representing your suffers in our "Alternative" news agency!
Then they cut and past some lines of my article and my news from Radio Zamaneh to their website to show how an "Alternative" news agency works!
Usually we are calling Alternative media to whom are different from main stream or hegemonic, government's media, But they also copy & past my comment there in their name again, and called themselves "Alternative" media.
The way they use Palestine conflict and Palestinians are like the way they use such terms like "
Alternative Media
".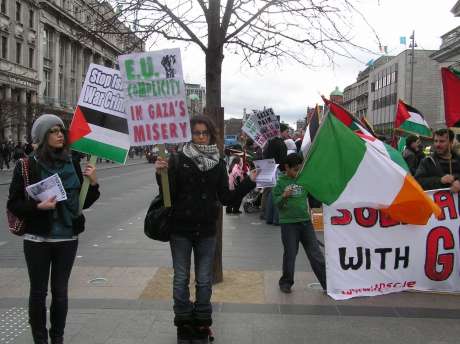 On the other hand, I,like many Iranians who have empathy with Israelis, have a lot of Israelis journalists and blogers friends, every time hearing about an attack against innocent children and people of Israel; I think what kind of ideology can make a tribe, a group or a band so violent and without mercy, how do they think with killing innocent people could dive directly to heaven?
I am happy the conflict with two side is seems
calmed down
now.
Although the situation in
Gaza
is not improved yet, But I am sure many people in that region know what is Islamic Republic's propaganda for.