Bush,Dont Touch Iran!

Prote
sters stage a sit-in as they carry banners reading 'Bush, Don't touch Iran' during a Mayday demonstration in Kadikoy district in Istanbul May 1, 2006. Banners at left read as 'Bush should be tried' and 'Incirlik should be closed' referring to the Turkish-U.S. joint airbase in southern Turkey. Tens of thousands of Mayday demonstrators marched through the Istanbul's busiest
Kadikoy Square, as a small group who tried to domonstrate in Taksim square were detained by riot police on Monday.
REUTERS/Fatih Saribas
A group of Iranian protesters shout slogans during a May Day rally in downtown Zurich, Switzerland, May 1,
2006. The demonstrators called for a release of political prisoners, and a stop to Iran's atomic programme.
REUTERS/Andreas Meier
May Day in Iran: Against class dispa
rity
yesterday hundreds of workers togeather with students demonstreated in Tehran against class disparity. Police had supressed them and arrest some of the protesters.workers of Bus Syndicate according to last strike are still in jail.
An Iranian worker holds a placard where says in Persian 'class disparity biggest threat to the Islamic establishment' during a rally to mark May Day or International Labor Day in front of the former U.S embassy compound in Tehran, Iran on Monday May, 1, 2006.(AP Photo/Hasan Sarbakhshian)
Two Photos of Iranian Girls!
Two face of Iranian girls inside and outside of obligatory Isalmic rules.
First:Iranian women, who painted the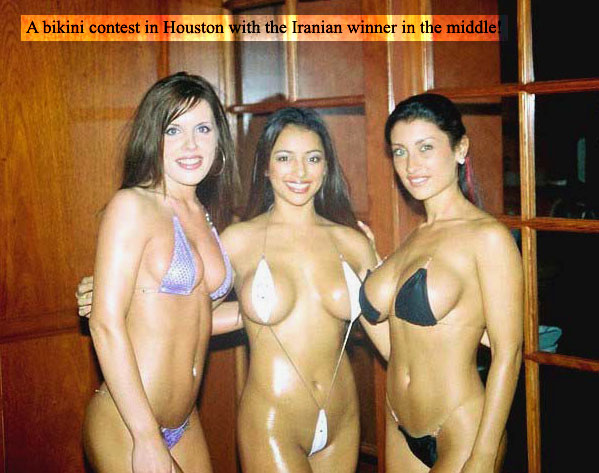 Iran's flag on their faces and lips, flash the V-sign for victory during a football match between Iran 's women national football team and Germany's Al-Dersimspor at Tehran's Ararat stadium, 29 April 2006. Iranian President Mahmoud Ahmadinejad had announced 24 April 2006 that Iranian women can finally go to stadiums to watch sporting events, putting an unexpected end to a quarter-century ban.
(AFP/File)
Nuke Iran`s T-Shirts!
Cafepress has presented Anti-Iran solgans like T-shirts.
"Fuck and Nuke IRAN!" and Iran is the next has written on them.It is said that the vice persident of Cafepress is also Iranian!
More Anti-Iran Solgans!